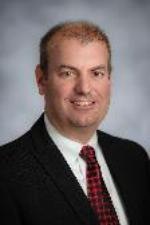 Mike was born and raised in Frederick County, Maryland. He attended the University of Maryland for his undergraduate studies and graduated in 1987 Cum Laude, with High Honors in Economics. He then attended the University of Virginia School of Law and graduated in 1990. Upon graduation, Mike was employed by Miles & Stockbridge in its Baltimore office as an associate in its tax department. In 1993, Mike transferred to the Miles & Stockbridge Frederick office where he continued his career as a business and transactional attorney and served as the office managing principal until leaving in 2012 to form his own firm.

Mike is married to Cathy Delauter. They have three children, Amy, Ryan and Ally. They reside in Thurmont, Maryland.

Education:

University of Maryland, College Park, Maryland; 1983-87; Cum Laude with High Honors in Economics

University of Virginia School of Law, Charlottesville, Virginia; 1987-90. Juris Doctorate; Executive Editor, Virginia Tax Review

Bar Admission: State of Maryland.

Community Activities:

Estate Planning Council of Frederick County, Board Member (2005-present); past president

Frederick County: Affordable Housing Council, Member (1995-1997)

Frederick County Mental Health Association.: Board of Directors, Member (2000-2010)

Frederick Innovative Technology Center, Inc., Board of Directors (2011 to present)

Frederick Memorial Hospital: Planned Gifts Committee, Chairman (2003-present)

Community Foundation of Frederick County, Board of Trustees (October 2016-present)

Grossnickle Church of the Brethren: Board Member, Secretary of Board (1995-2005)